UELC Leadership
Rev. LaVaughn Wiggins
Pastor
Biography
Reverend LaVaughn Wiggins was born in Mobile, Alabama, on April 19, 1952 to the late Theodore R. and Mrs. Mattie L. Wiggins. Reverend Wiggins was a member of Mount Calvary Evangelical Lutheran Church in Mobile, Alabama, where the late Reverend Dr. Albert Dominic baptized him at the age of five. He attended elementary and middle school in Prichard, Alabama. Reverend Wiggins graduated from Mattie Thomas Blount High School in 1971. Reverend Wiggins is married to Debora Ann Clay.
In 1985, he transferred his membership to Trinity Evangelical Lutheran Church in Mobile, Alabama under the leadership of Reverend Ulmer Marshall; Jr. Reverend Wiggins held the position of deacon and various other congregational positions for 15 years. Reverend Wiggins was employed for five years as a firefighter for the City of Prichard, Alabama, before joining International Paper Company, where he was employed for 18 years until the Lord directed him into the Pastoral Ministry.
He attended college at Bishop State Community College and Concordia Theological Seminary Delto's Program held at Concordia College Selma. In June of 1998, he entered Concordia Theological Seminary, Fort Wayne, Indiana, where he received his Master of Divinity Degree in July 2002. He served his vicarage at St. Philip Evangelical Lutheran Church in Jackson, Mississippi under the guidance of Reverend Allen Kramp of Christ Evangelical Lutheran Church, Jackson, Mississippi, prior to receiving the divine call to serve as pastor of St. Philip Lutheran Church and being installed as Pastor on September 8, 2002.
He also became Interim Pastor of St. Paul Lutheran of Jackson, MS in 2003 and stayed until both churches merged in Sept. 11, 2005 and became the pastor of Epiphany Lutheran Church of Jackson, MS.
Rev. Wiggins served Epiphany Evangelical Lutheran Church of Jackson, MS until his call to serve as Campus Chaplain of Concordia College Selma, Selma, AL, where he was installed on January 18, 2011.
Rev. Wiggins also served as Interim Pastor of Bethelem Lutheran Church, Prattville, Al, for three years, beginning December 2013 and ending in March 2016.
Rev. Wiggins retired from Concordia College Selma, June 30, 2016. He served as Interim Pastor of United Lutheran Church, Montgomery, AL. from August 7, 2016 to May 21, 2017. After receiving a call from United on May 21, 2017, Rev. Wiggins was installed as Pastor on June 4, 2017.
Board of Directors
Elder Michael Smithers
Chairperson
Mrs. Rosalyn King
Vice-Chairperson
Mrs. Sadie Thompson
Treasurer
Mrs. Deborah Harris
Financial Secretary
Members at Large
Lucinda Mosley
Chairperson, Evangelism
Elder Daniel Harris
Chairperson, Stewardship
Board of Trustees
Elder Brice Thompson Mrs. Willodean Malden Mrs. Virginia Browder Carl Johnson
Board of Elders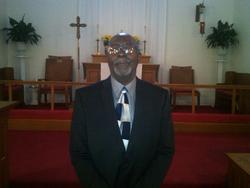 Elder Brice Thompson
Chairperson Elder Thomas Bell III Elder Daniel Harris Elder George Johnson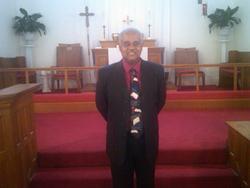 Elder John McCloud Elder Jimmie D. Mosely Elder Michael Smithers Elder Carl Johnson Elder Hugh Gray Jr. Elder D'Livro Beauchamp